I am a Scrapbooker
I've been a scrapbooker for a long time. It's always appealed to me to stick things other than photos into old-fashioned scrapbooks with notes explaining what happened in each. I discovered modern scrapbooking around 2000 when I saw a magazine at the Walmarts dedicated to it and was instantly drawn to it. I started "officially" scrapbooking in 2001.
I used to know every company out there, and what each one made. I subscribed to not one, but two monthly scrapbooking magazines. I was on design teams. I knew all the famous scrapbookers and read their blogs. I actively participated on multiple scrapbooking message boards. I worked in scrapbooking stores. I taught scrapbooking classes. I traveled to other parts of the country on multiple occasions to meet scrapbooking friends that I knew from online, to attend scrapbooking events, and to teach or help teach scrapbooking classes. I even had some of my work published in national magazines.
I was a Scrapbooker with a capital S.
Then something happened. I started to taper off in my enthusiasm. Where at one point I was cranking out ninety pages a month, I was now lucky if I managed nine in a whole year. Having a baby didn't help either. He has only a handful of pages in his book. Seriously, the DOG has a better scrapbook than he does. It's shameful. I never quit altogether, I just sort of petered out.
Lately though, since I started with the Project Life stuff, I find myself being drawn back in again. I've been reading blogs that I find on Pinterest to get some inspiration for my own PL pages and finding that a lot of those blogs belong to Scrapbookers with a capital S. I'm seeing new techniques, learning what companies are still around, and which ones are new since I last checked. I checked my Google Analytics a couple of days ago, and found that I was getting traffic from Two Peas in a Bucket again! So, for the first time in years, I logged on there and poked my head around the message boards.
Crazy.
A couple of weekends ago was the big Winter Craft and Hobby Association show. I used to stalk message boards and blogs like a fiend when this happened, because I had to know what new things were coming out, and what new things I needed to add to my stash. I used to dream of having someone invite me along so I could get to see the show in person, since you can only go if you are in the business. Of course, with my waning interest in scrapbooking came a waning interest in what was happening at CHA.
Until this year, that is. While some of the supplies available are still the same old same old, there are a few new things out there that interest me. Here are the things for which I'll be searching next time I head to my local scrapbook store!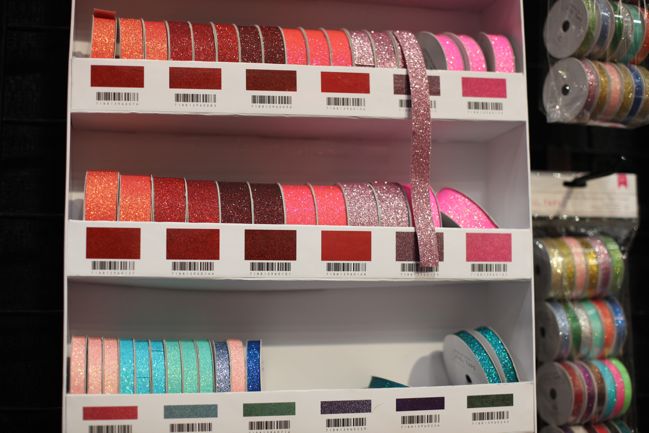 Glitter tape from American Crafts. Do I even need to explain this? It comes in so many colors, and a few different widths. I'm wondering how loose that glitter will be though. If it's the kind that flakes off all over I'll have to pass.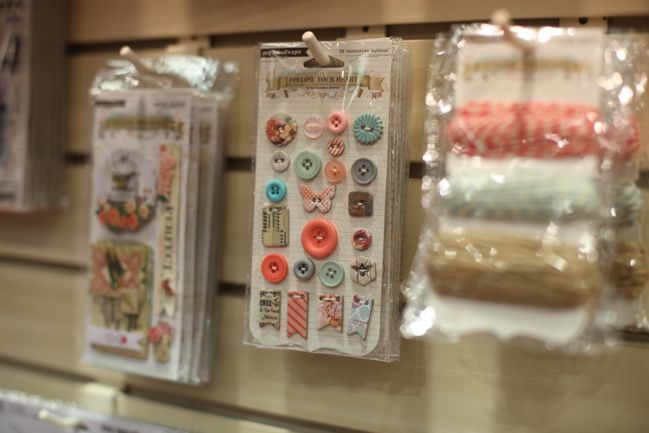 Buttons from My Mind's Eye. Those banner flag buttons at the bottom are GENIUS. Probably not genius enough to justify paying whatever that package is going to cost, but a whole package of just those would definitely have been something I would have considered.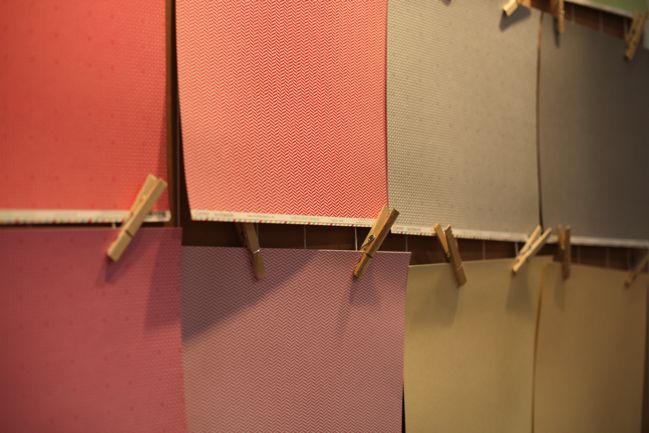 Clever Handmade mini chevron patterned paper. One sheet of this would go a LONG way to accent cards in Project Life! Cute, current, gender neutral, versatile. What's not to love?
Queen & Co Trendy Tape. Oh, how I've become enamored of washi tape lately! When I first started seeing it, years ago, it was only in solid, pastel colors. PASS! But lately? It's in colors and patterns and it's SO PRETTY! The problem? It's also SO EXPENSIVE! Honestly, I don't get how someone can and will pay $5 for a roll of fancy masking tape,
plus
another $3 for shipping. It's still just tape, after all. I'm hoping that with so many companies coming out with their own domestic versions of this product that the price point will become easier to handle. I'm especially loving the stripes and polka dots in this collection.
Queen and Co Twisted Twine. FINALLY! Someone is packaging baker's type twine in smaller amounts. I don't need a gigantic freaking roll of the stuff for $18. Sure, that's a smoking deal when you break it down to price per yard, but I'm never going to come even close to using that much so it's mostly a waste of $18. These smaller spools will have ten yards, which is more than enough for my purposes, and will cost two bucks. SOLD.
Bella Blvd. tape - I'm loving those two on the bottom!
So yeah... I guess I'm petering back in again!
Labels: Project Life, scrapbooking, shopping, wish list