Signs you are a Pyrex Nerd
You're watching old episodes of Mad Men on dvd and you can't help but notice that Trudy Campbell is serving dinner from a Pyrex casserole dish, so you open up the page you have bookmarked on your iPhone to see what it's called.
Yup, I really have a cheat sheet bookmarked on my phone to identify patterns of vintage Pyrex.
I know. Nerd. It's
this page right here
in case you want it available for reference too. Just open it in Safari on your iPhone, scroll until what you want to be your thumbnail shows on your screen, then click the little square with an arrow leaping out of it in the bottom center of your screen. Click ADD TO HOME SCREEN, then give it a name (it will let you type a lot, but only show 12 characters including spaces on the thumbnail) and click ADD in the upper right hand corner.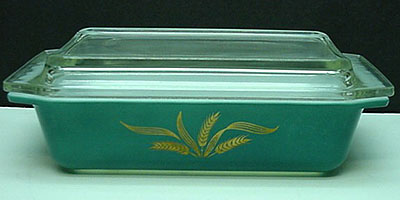 In case you're wondering, it was a
Cinderella casserole (model number 575)
and was a promotional pattern from fall of 1961 called
Green Wheat. I have to tell you, it's amazing the amount of research the prop people have done for this show. This was in season two (I think?), which was set in 1963! I bet the Campbells got it as a wedding present, along with that chip and dip...
While I know Betty Draper has a few Pyrex bowls around (you can see them in a few scenes here and there) the ones that show up most in her kitchen are these:
Fire King, aka NOT Pyrex but pretty dang similar. You don't see them in the first few seasons, but the sugar bowl gets shown a lot in the later ones. I couldn't find a photo online, but when I see it on the DVD I'll take a picture of the tv and post it or something. This pattern is called Wheat. I don't collect patterned Fire King, but I do have several of the plain pieces of milk glass in my cupboards.
Now, that Joan Halloway, SHE is a girl after my own heart. Check out what's on her cutting board:
That's right - the pink daisy casserole I have been hoping and praying to come across for a reasonable price! One day, it will be mine. Just you wait!
It's soooo pretty! I love it.
And that concludes my Mad Men/Vintage Pyrex fangirling for the day.
Labels: Pyrex